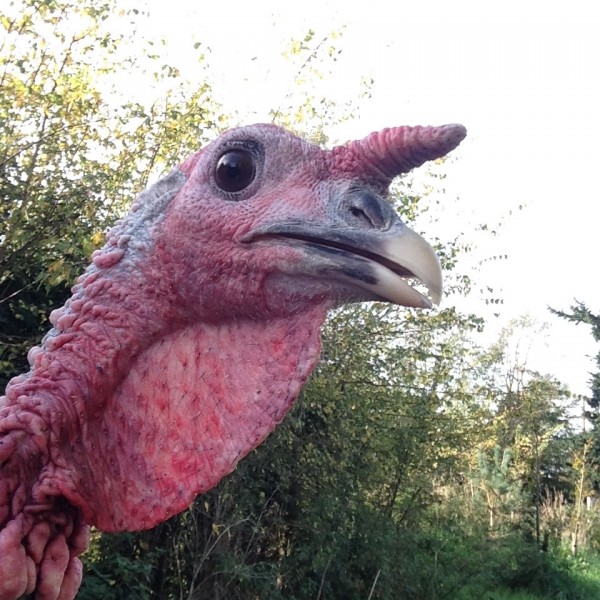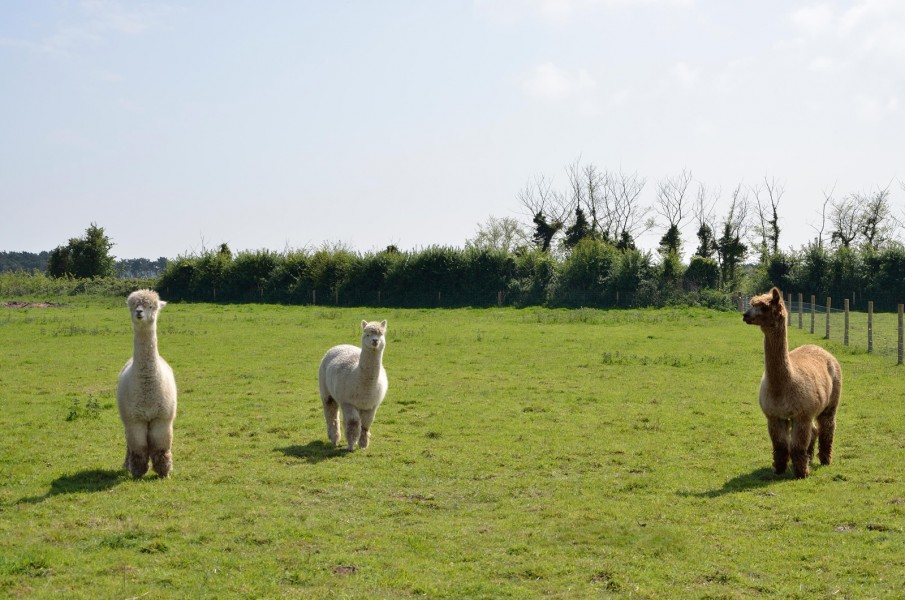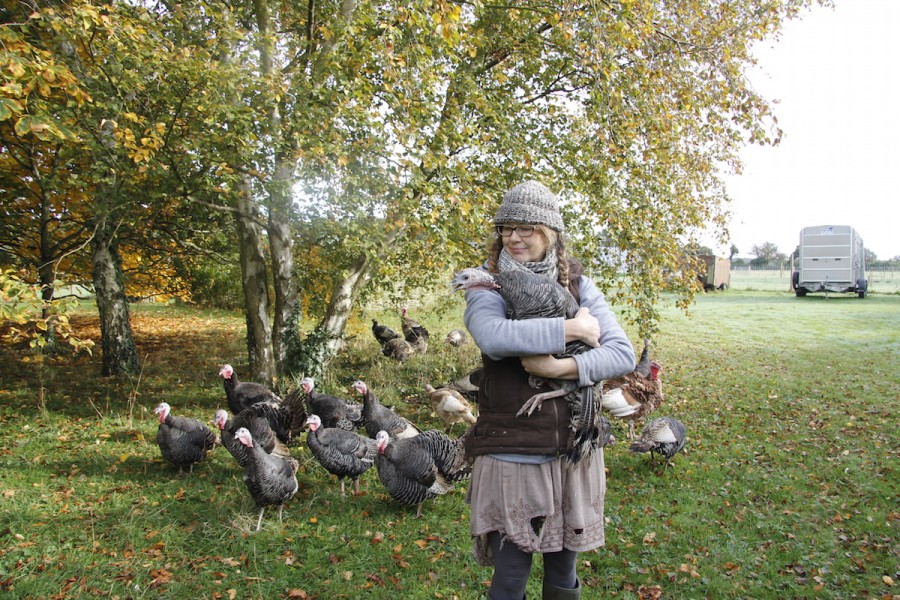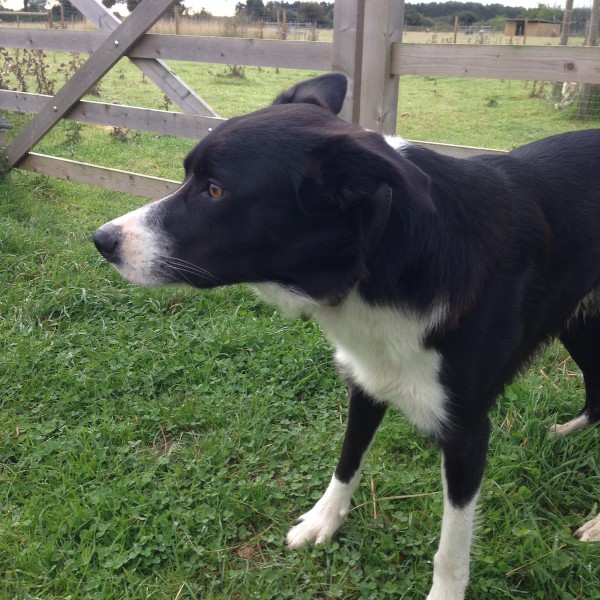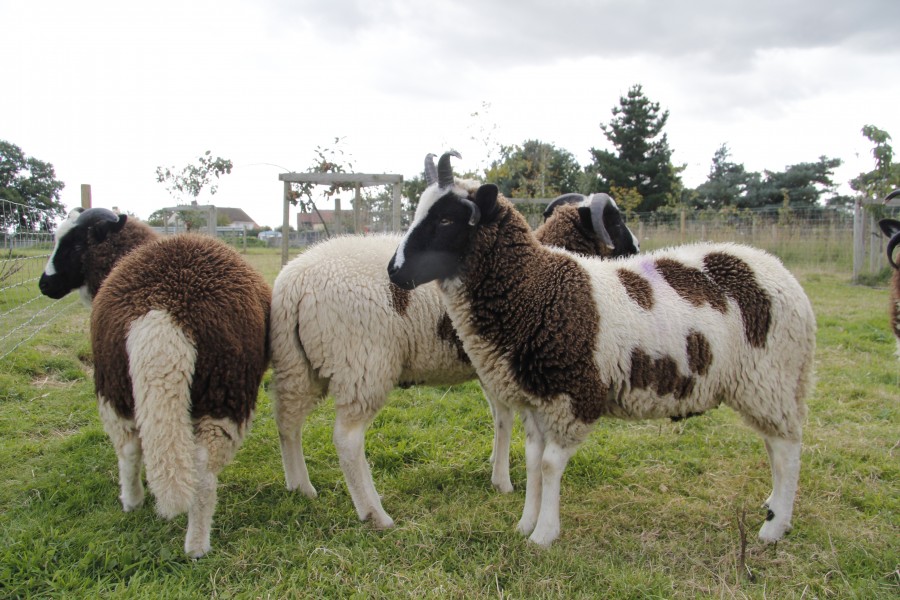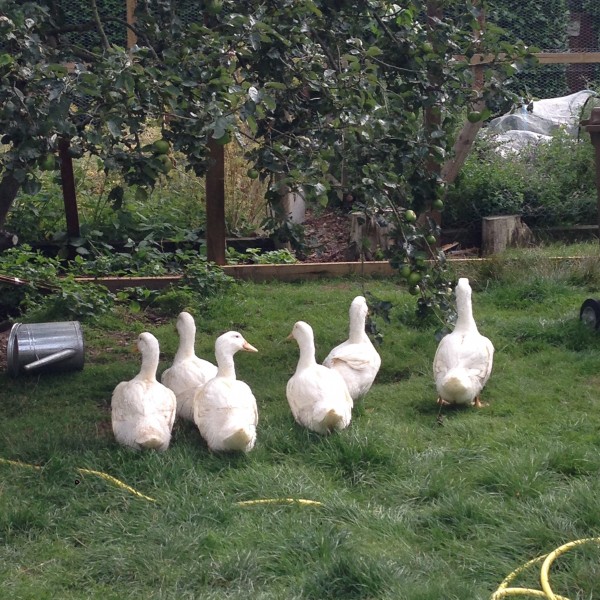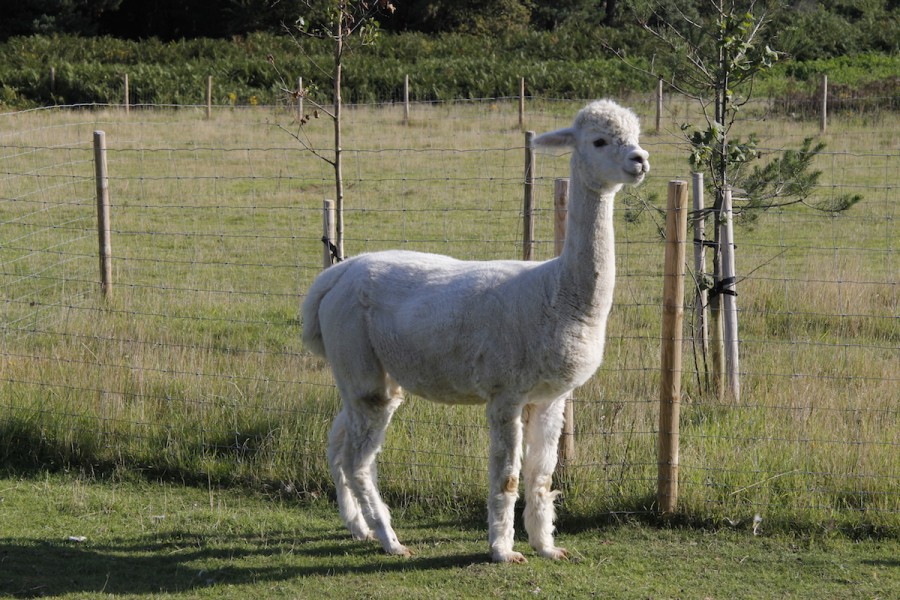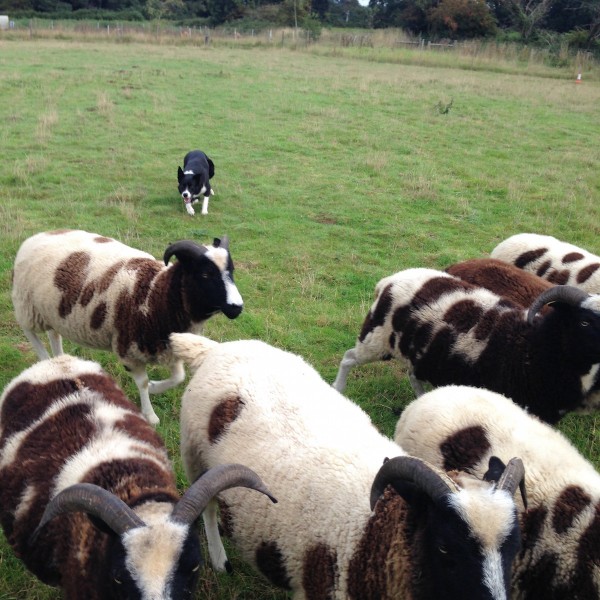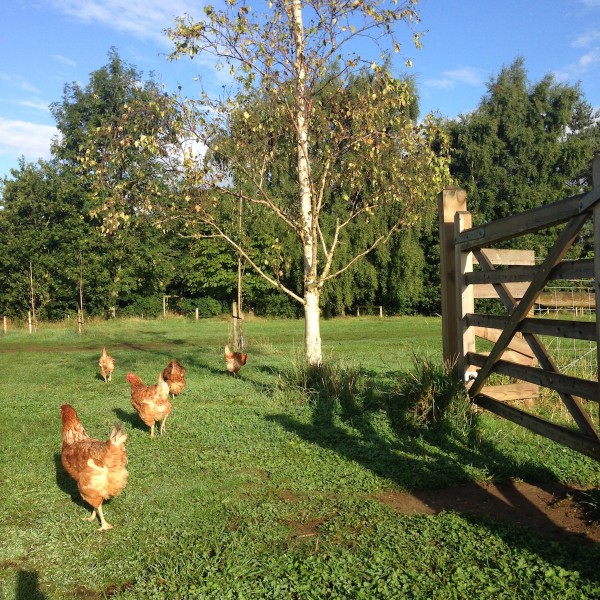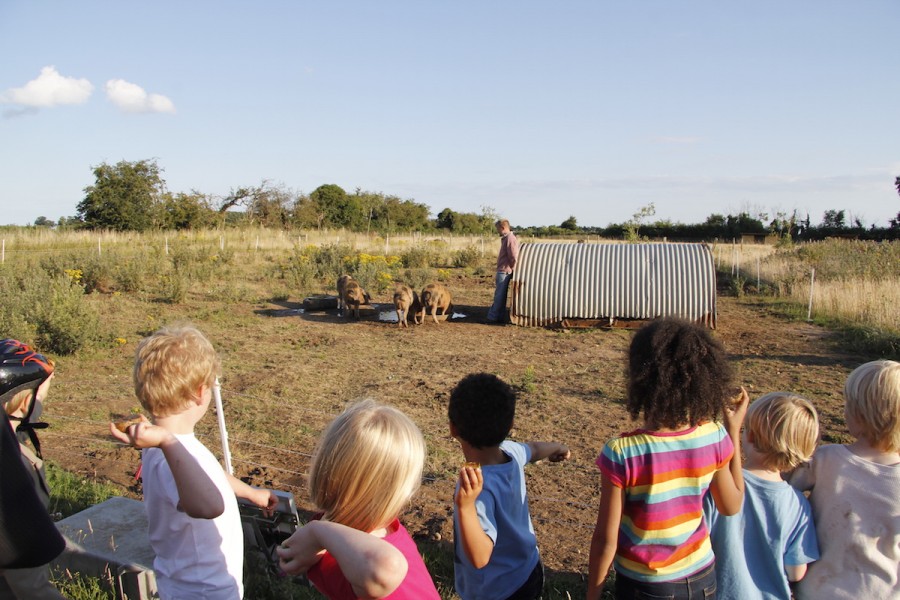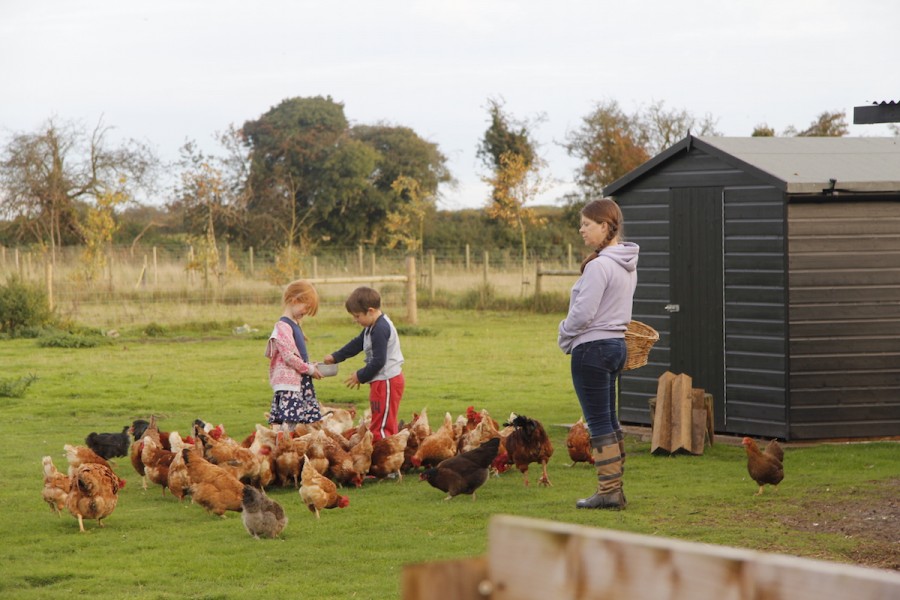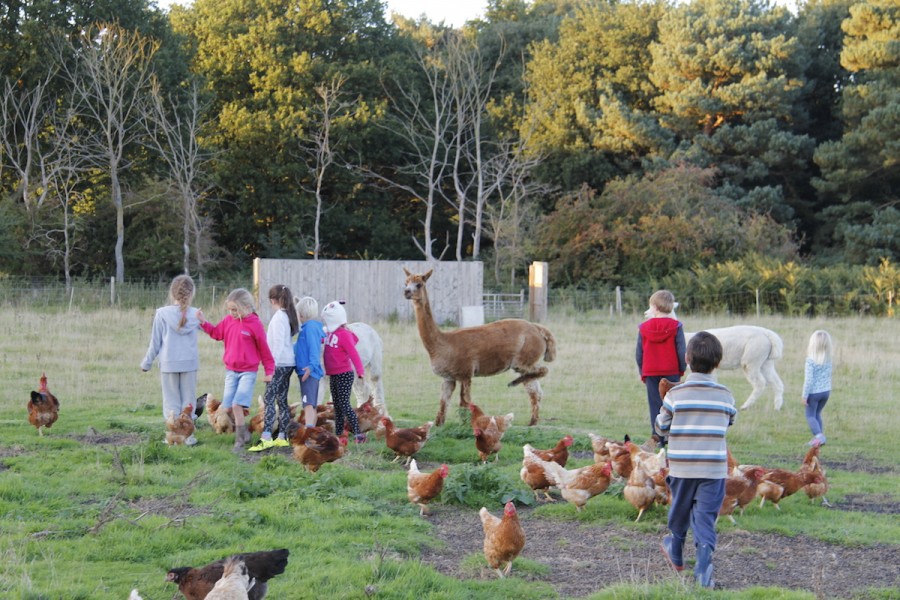 Part of the campsite is a working smallholding that is run in accordance with organic, humane and sustainable principles. We grow our own fruit and vegetables and have a variety of rare breed farm animals.
We grow all our own vegetables and fruit on the smallholding. Everything is grown in accordance to organic principles. We don't use artificial fertiliser or pesticides. Instead we use compost, worm juice and alpaca and chicken poo. I love growing my own food – it is much easier than you might think and I encourage everyone to give it a go. When we have a surplus of produce we sell it. We also make our own home-made jam, jelly and chutneys which are for sale at the back of the house.
We have a small herd of Jacob sheep who eat and fertilise the grass and provide us with some very tasty meat. Every year we borrow a ram and usually we lamb sometime in April or May – 'lambing live' comes to Shottisham campsite. I (Claire) am also training Kainaat the sheep dog to work the sheep. It is a steep learning curve for both of us, but we are slowly getting there – it is a huge amount of fun. You might see us practising in the early evening.
We also usually have a few rare-breed, slow growing pigs that free-range near the bridleway. We sell the most delicious sausages and bacon from these very happy pigs. We have tried Large Blacks, Gloucester Old Spots, Berkshires, British Lops and Oxford Sandy and Black, and Middle White pigs, but think we might settle on Large Blacks for breeding.
We have a range of very free-ranging poultry wandering about the campsite. Currently we have chickens and ducks. We have Pekin ducks (they live by the pond over in the pear garden). They lay the most delicious eggs. The Pekin ducks are also a meat bird. We have lots of chickens – some lay blue eggs and some lay white or brown eggs. We have a mix of heritage breeds and hybrids. We are building up a flock of rare pure-breed Ixworth chickens. These are a breed local to Suffolk. They are a dual-purpose bird, the hens lay eggs and the cockerels are substantial enough to use as meat birds. They are our most ethical chicken as nothing is wasted – see here for more about them. We also have the mini-dinosaurs, the Naked Neck meat birds. These are lovely big birds and unlike commercial meat chickens they can support their own weight and breed naturally. Our turkeys are a heritage breed as well although we aren't sure what type. Every spring they sit on clutches of eggs and hatch out baby turkey poults which are very friendly and pretty comical. Generally through out the summer we have chicks of some kind or another on the smallholding – some are hatched by the Silkie hens (these are the cute fluffy chickens with a bobble on their heads) and some are hatched in the incubator. We always have chicken and duck eggs for sale, but during the busy periods they sell out quickly so you might want to reserve some with us when you arrive.
The poultry are looked after by the llama pajama army although they are actually alpacas not llamas. The brown alpaca is called peanut and the two white ones are Juniper and Inky Dinky Do.
We also have bees although don't worry they are kept out of the way and you probably won't see them. They are however invaluable for pollinating our fruit and vegetables.
We strongly believe animals should be able to live a natural, happy, stress-free life. Equally we believe that they should have a quiet death – to find out more about our commitment to animal welfare see here.
Bearing this in mind please keep all dogs on a secure lead – not all dogs can resist the temptation to chase or bite animals.
Also please don't go into our gated fields to look at the animals and please don't feed the animals. If you feed the chickens they will never ever leave you alone and while you might like this, they will also not leave the next family alone either – chickens are very smart and quick learners – and not everyone wants them in their tent! We feed our animals a balanced organic diet and we don't want them to get overweight as this isn't good for them. If you do want to see the animals up close or feed them, then please come along for egg collection.